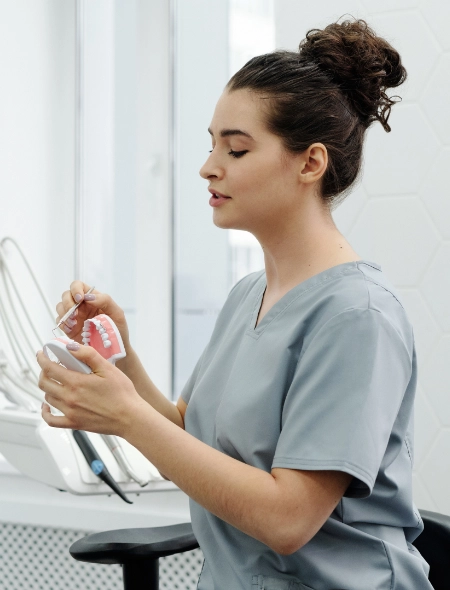 WHAT WE OFFER
Our Courses Benefits
Dental Implant Courses Los Angeles
Dear Colleagues,
It is our pleasure to present to you our continuing education courses. In this seminar series we offer lectures as well as hands-on workshops in different topics relating to implant dentistry and beyond. Our faculty lecturers consist of specialists with vast experience in the fields of periodontics, implant dentistry, oral surgery, orthodontics and prosthodontics. They will share clinical "pearls" and invaluable information with the participants in the various courses.
The seminars are geared towards general practitioners and specialists that would like to extend their knowledge in the field of implant surgery and advanced bone grafting and restorative techniques. Complications are part of routine practice, and we put emphasis on ways to prevent them and how to manage challenges once they occur.
For clinicians that are just starting to take their first steps in implant dentistry, we offer our basic implant course that will serve as a foundation of knowledge to the more advanced courses. In addition, the advanced soft tissue surgery course will help clinicians achieve better soft tissue esthetics around implant restorations.
We hope you find these seminars beneficial, and we look forward to seeing you in the next seminar.
Sincerely,
Implantology Seminars
TEAM MEMBER
Meet Our Faculty
Our Mentorship and Guidance Program
Many clinical cases are challenging and require an interdisciplinary approach. We will be happy to assist and guide you in treatment planning these cases. Our faculty consists of all the disciplines in dentistry and can be helpful in providing additional input. Should you need to consult in regards to a specific case, please feel free to contact us via mail, e-mail or phone. Radiographs, CT scans and study models can be shipped with trackable mail to:
1299 W Jefferson Blvd. Los Angeles, CA 90007
Tel: 888-823-5553
Email: info@ab-dentusa.com
Please provide us with as much clinical information pertaining to the case, and we will do our best to assist you.
Additionally, do not hesitate to contact our faculty via e-mail.
"This is the most informative, most convenient implant seminar for General Dentists who want to start placing implants in their practice. "
Dr. El Reedi
Fresno, California
"The AB seminars have allowed my practice to achieve a greater quality of treatment options, and provide the best available care for our patients. Even better, from what I have learned and implemented the practice has definitely seen a significant return on investment."
Dr. Wright
Fresno, California
"This course went above & beyond my expectations, worth every penny!!!"
Dr. Jeong
Los Angeles, California
TESTIMONIALS
Students Feedback
We're committed to improving and providing a great learning environment.
People Love To Learn With Us
Doctors Complete Course Successfully
Doctors reported better learning outcomes.